Recipes
IRRESISTIBLE CREATIONS FROM RED DIAMOND®
Explore our featured recipes that take our favorite products and give them a creative twist.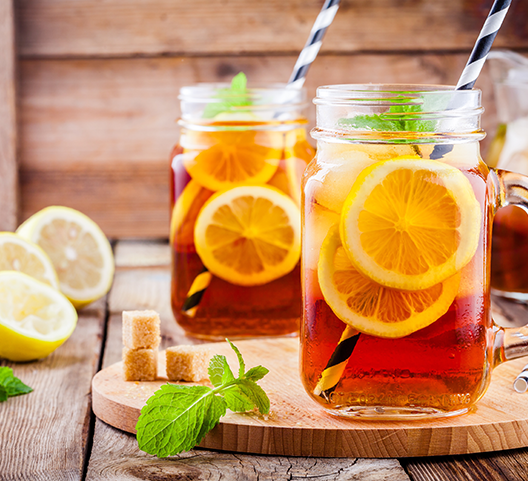 Citrus Sweet Tea
We've given the Southern favorite an extra burst of citrus with this sweet tea that has the added zing of lemon and the cooling taste of mint. Perfect for any front porch.
INGREDIENTS:
1.5 gallons of water
2 quart-size Red Diamond® tea bags
2 cups sugar
Fresh mint
1 lime - squeeze and reserve juice (discard seeds)
3 lemons - squeeze and reserve juice (discard seeds)
RECIPE:
In a large saucepan bring 2 quarts of water to a boil.
Next add 2 quart-size tea bags, fresh mint, 2 cups of sugar, mix well and steep for 15 minutes.
Remove fresh mint and tea bags.
Add the juice from lime, lemons, oranges and vanilla.
Strawberry Basil Tea
Garden freshness in a glass – a springtime reverie with iced tea, strawberries and a touch of basil makes this a sippable delight any time of day.
INGREDIENTS:
4 cups water
2 quart-sized Red Diamond® Iced Tea bags
2/3 cup sugar
1 tablespoon lemon juice
1 pint fresh strawberries
½ cup fresh basil leaves, as garnish
RECIPE:
Fill a glass measuring cup with 2 cups water and add tea bags.
Microwave 3 minutes on high.
Add sugar to hot water until it is dissolved.
In a blender, combine 2 cups water, lemon juice and strawberries. Pulse mixture until well blended.
Pour through a fine mesh strainer into a pitcher of ice and combine with the hot water mixture.
Garnish with extra strawberries if desired.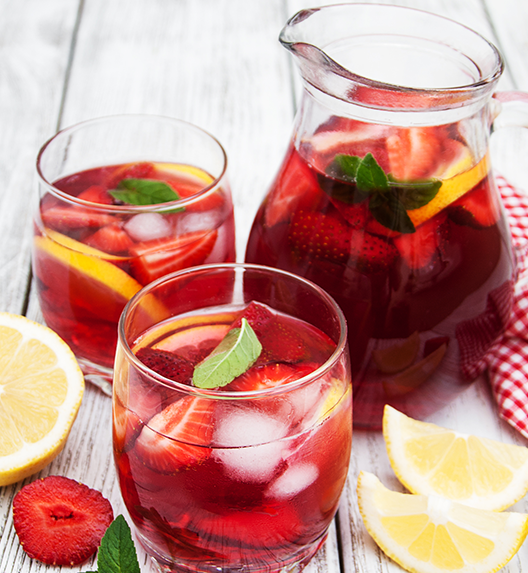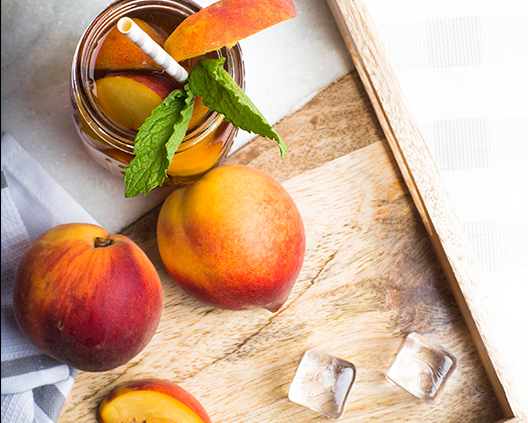 Sweet Rum Punch
Add some sweet tea goodness to your cocktail selection with this blend of sweet tea and black rum. Peach slices give your drink extra sweetness and some presentation pow as well.
INGREDIENTS:
¾ cup Red Diamond® sweet tea
½ tablespoon lime simple syrup
1.5 shots black rum
3-4 slices of fresh peach
RECIPE:
In a glass filled with crushed ice, layer the ingredients above in order of sweet tea, simple syrup, rum.
Add peach slices, stirring optional, and sip away.
Lavender Vanilla Bean Tea
An herbal elixir that taps the calming powers of lavender. It begins with Red Diamond tea and blends in a lavender vanilla bean syrup with hints of ginger and lime zest.
INGREDIENTS:
1 gallon of water
4 quart-size tea bags
2 cups of distilled water
3 limes, grate/zest
4 tablespoons lavender flowers
4 teaspoons minced ginger
1 vanilla bean, split and scraped
2 cups of sugar
2 tablespoons of honey
RECIPE:
In a large saucepan bring 1 gallon of water to a boil; add 4 quart-size tea bags and brew.
For the Lavender Vanilla Bean Syrup:
In a medium saucepan, add the lime zest, lavender flowers, ginger, vanilla bean and steep for 20 minutes. Strain liquid through a coffee filter or fine strainer.
Pour liquid back into saucepan.
After 20 minutes, strain liquid through a coffee filter fine strainer.
Pour infusion back into saucepan.
Add 2 cups white sugar and 2 tbsp. honey. Heat until fully dissolved.
Use 2.5 to 3 cups of the syrup to add to brewed tea.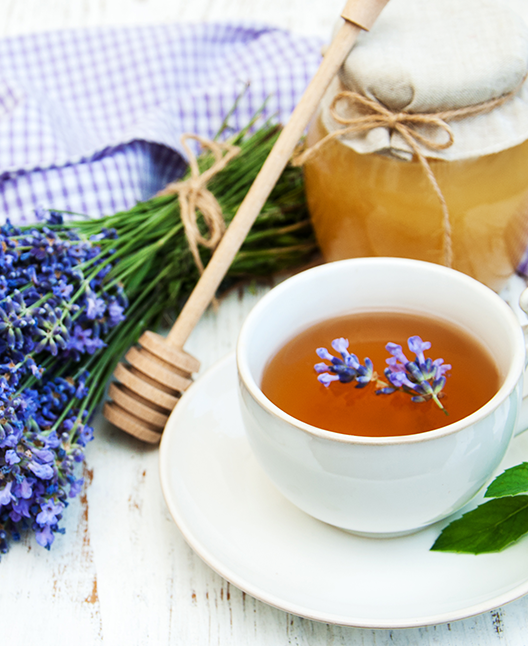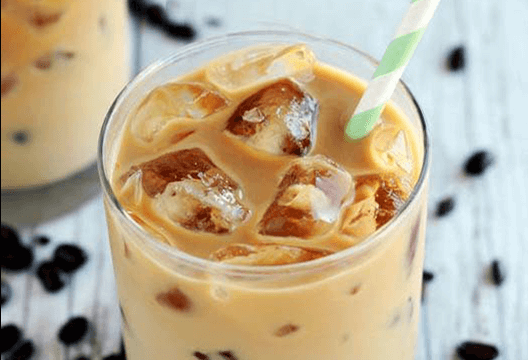 Cold Brew Vanilla Latte
A coffeehouse cocktail – it's a White Russian for the Cold Brew crowd: vodka, cream and Fitz™ Cold Brew Coffee.
INGREDIENTS:
8 oz. of Fitz™ Cold Brew Coffee (mixed with your choice of cream or milk)
1.5 oz. of vanilla vodka
Ice to fill the glass
RECIPE:
Mix Fitz™ Cold Brew Coffee, milk and vodka together.
Serve over ice.
Frozen Caramel Cappuccino
It's hot outside and this recipe for a Frozen Caramel Cappuccino is the perfect way to keep cool. Experiment with other flavors of liquid creamer and let us know how it goes!
INGREDIENTS:
16 ounces of Red Diamond® Coffee
¾ Cup of Milk
½ Cup of Caramel Flavored Liquid Creamer
Whipped Cream
Topping for Optional Drizzle
RECIPE:
Brew a strong cup of Red Diamond coffee. Let it cool and then pour it into the ice tray. Place the ice tray in the freezer until coffee cubes are solid. Remove ice tray from freezer and add the frozen coffee to the blender, along with your flavored creamer and milk. Blend until smooth.
Pour mixture into glasses and top with whipped cream and additional caramel drizzle.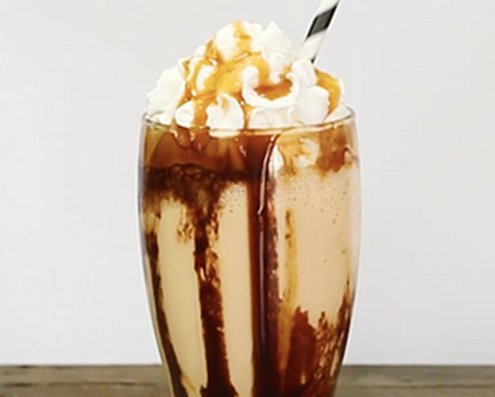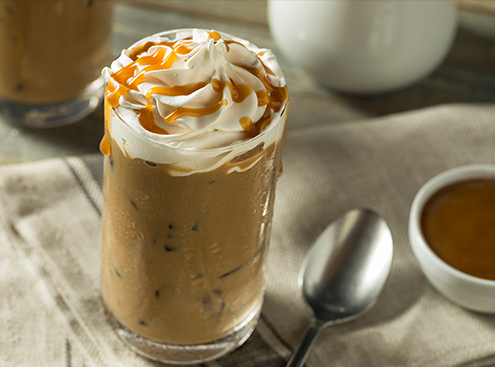 Caramel Swirl Iced Coffee
A refreshing blend of coffee, milk, sugar and caramel sauce served on finely crushed ice for a deliciously satisfying beverage that is sweetly reminiscent of summer strolls along the boardwalk. The caramel blend perfectly accents the smooth flavor of Red Diamond® Coffee.
INGREDIENTS:
1.5 cups Red Diamond® Iced Coffee
½ cup milk
2 Tbsp. granulated sugar
2 Tbsp. caramel sauce
2.5 cups crushed ice
RECIPE:
Blend together the coffee, milk sugar and caramel sauce.
Once combined, blend in the crushed ice.
Blend until ice is nicely crushed.
Cold Brew Martini
Cold Brew with a kick. An exotic island eye-opener, with Dark Rum, Bailey's and Fitz™ Cold Brew Coffee. Shaken not stirred.
INGREDIENTS:
4 oz. Fitz™ Cold Brew Coffee
2 oz. dark rum of your choice
2.5 oz. Baileys
RECIPE:
Shake Fitz™ Cold Brew Coffee and rum with ice
2Seve chilled in martini glasses